***New Price!***
AN Event for for Heart-Centered Individuals
to Activate their DNA for Health, Clarity & Peace
Do you know what your intuition is telling you, but you just can't follow through?
Or maybe your mind is scattered and you can't tell which voice in your head is your intuition?
What happens when you do follow your intuition?
Treat Your Soul is a way you can dedicate 1 time out of your month to clear out the blockages and align your energy body, mind and heart with your Divine Self- this is the source of all intuition.
When we tap into the frequency of the Divine Self, we create:
Physical health
Emotional flow
Fulfilling relationships
Our Heart's Desires
The Divine Self is the unconditionally loving, whole, and wise dimension of ourselves. All that is required is a shift in perception to activate this presence in our physical body and waking consciousness. Every time we do this, we align our vibration with this innate intelligence – in turn it transforms our lives!

Live Events are the First Wednesday of Each month
If you can't make it live the replays are just as powerful!
February 2nd – Activating your Life's purpose – Throat Chakra
March 2nd – Befriending the Ego – Solar Plexus Chakra
April 6th – Dreaming your reality into existence – Third Eye
May 4th – Spirituality through Sensuality – Sacral Chakra
June 1st – Embodying Divine Confidence – Crown Chakra
My PROMISE TO YOU
You'll start retrieving your energy  and directing it towards your Heart's Desires!
What you get:  Monthly LIVE Divine Self Activations, plus instant access to the Archive of Activations 
6 recorded events available so far! 
You can use these activations at any time for healing, clarity, relaxation and rejuvenation.

Live events are the first Wednesday of each month (some exceptions may occur) at 7:30-8:30pm CST.  Zoom link will be emailed to you.  You will receive access to the archive immediately after enrolling.
Each Divine Self Activation Value:($75) 
You Invest: $11/month No risk. Cancel anytime.
Amazing Value to Tap into the Wisdom and healing of your Divine Self! 
We know that the food we eat affects our health and how good we feel. What about feeding our mind and soul?  Modern society does little to remind us of need to nourish our true nature.
We get distracted by our physicality and often forget the Spirit within. "If I work hard and carry out these steps, I can achieve my goals, right?" Maybe. It might be a long time though.
This way of thinking doesn't take into mind what limiting beliefs or trauma effects could be slowing us down, sabotaging our efforts. We go day to day on autopilot and don't stop to ask what our heart wants or how our intuition wants to guide us.  Living out of tune with our inner guidance can leave us feeling detached, drained and anxious.
What's the way out?
There is no one right way for everyone to create a life that feels fulfilling. The amazing thing is that we all have an inner healer/guidance system. This is the Divine Self!
Our Divine Self has a widened perspective that can provide us with the unique elixir of energy and information that we require in each moment.
With every Divine Self Activation we peel off the layers that block us from our goals and strengthen our connection with our inner healer/guidance. As our energy field strengthens, we come into vibrational alignment with experiences that lead us down the path of our heart's desires.
This is how Divine Self Activation transforms lives!
Spots are now open for this Healing Activation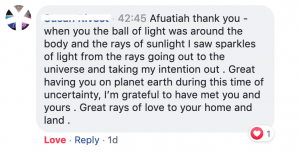 Click on the TAKE THIS COURSE button above and tune into your Divine Self Now. 
Message afua@renewedspirit.ca for alternate payment method.